New in Raskin 1.8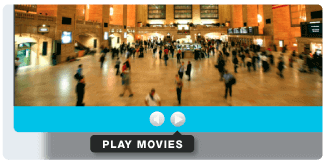 Window and Full Screen Modes
With new Window / Full Screen modes (Lion and Moutain Lion) you choose the size of Raskin Surface for a more integrated workflow with graphic, photo and other applications.
Retina
New Retina displays are perfect for design work and presentations. Raskin now takes full advantage of your high resolution displays.
Movies
You can now choose to watch movies directly form the Surfce or inside the Quick Look panel. On the Surface you can run multiple movies simultaneously.
Your colors
Choose your own favorite color for the Surface background. Raskin also now follows your System color preferences for "selections" making the experience between Desktop and Raskin even more seamless.
See Full Change List…
Raskin Features
Inspired by Macintosh visionary, Jef Raskin, our zoomable user interface shows you all the stuff on your computer on a single surface. Using zoom and pan to view, arrange and open documents feels so right. In minutes you'll appreciate the simplicity and intelligence of our answer to the traditional desktop. Take a spin and see for yourself.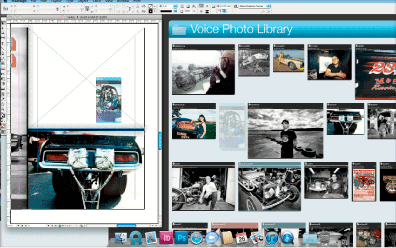 See Raskin in Action
Designer Nina, Raskin and a Magazine Design Deadline.
Simplify your design and editorial workflow
Raskin is the perfect tool for designers or anyone that handles artwork on the Mac.
Because it presents all your documents visually, you won't waste time hunting for stuff and you'll have more time to do what you do best.
Getting and Staying Organized is Easy
Sorting and reviewing project assets made easy
Color code selections using labels
Move and scale artwork or photography to create impromptu Moodboards
Boost Raskin's power by installing SneakPeek Pro (Quick Look plugin) for Adobe InDesign and Illustrator documents preview
Back to Top
Interact with your Mac in a whole new way
Use simple trackpad gestures, like on the iPhone or iPad, to zoom and pan your way around the contents of your computer.
Raskin also lets you zoom away from whatever application you're in, back into the Raskin Surface so you can see the location of the file you're working on and related documents saved nearby.
Interaction: A Seamless Experience
Smoothly zoom and pan anywhere
"Zoom in" to open document in its application
"Zoom away" from any document/application straight back into Raskin [⌥⌘-Scroll or ⌥⌘R]
Zoom-in on any selection [⌘R]
Multiple display enabled (one for Raskin, the other for your open applications)
Fast and easy to install
Browse your files with simple trackpad gestures.
Back to Top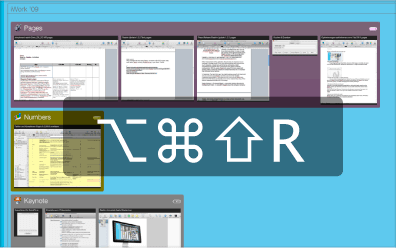 Use "Bird's Eye" shortcut to zoom-in on open windows.
Complement Finder and Mission Control
Quickly review and organize your visual files – photos, graphics, presentations, and artwork on the Raskin Surface with seamless zooming of all file types. No importing necessary.
And Raskin's "Bird's Eye Windows" shortcut lets you zoom-in on and get details of all open application windows.
Tight System Integration
Reveal any document on Raskin Surface quickly [⌥⌘R in Finder] – or use ⌘⇧R inside Raskin to reveal a document in Finder
"Bird's-Eye Windows in Raskin" [⌥⌘⇧R] to reveal open windows for a single running application
Improved "Open with" over Finder
Improved "Services" shortcut menu over Finder
Sort your files by "Last opened" (in addition to standard meta data sorting)
Changes made in Raskin are reflected in Finder and vice-versa (uses common file system)
Back to Top
View large photo sets instantly
Handling photography is a snap with Raskin.
Just insert the memory card or connect the hard disk containing your photos and you're ready to start reviewing and making selections. And since the Raskin Surface is fully interactive you can immediately group, arrange, rename or rate them using color labels.
A Giant Contact Sheet
Create contact sheets on the fly without importing
Stay focussed on your photos with Light Table View
Displays images in relative scale on Surface
Adapt Raskin Surface to fit the needs of your project
View camera settings, histograms and shot details with SneakPeek Photo Quick Look plugin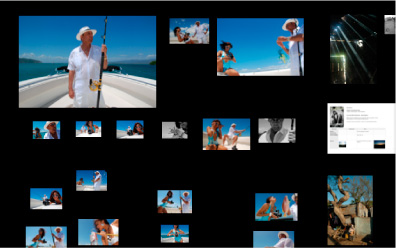 Stay focussed on your photos with Light Table View.
Back to Top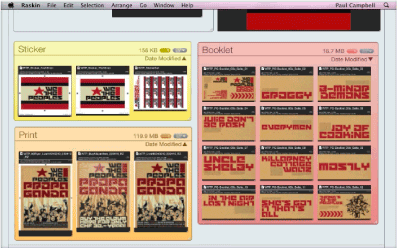 Tap into your spatial memory.
Stay organized and productive
Raskin maintains Finder's built-in file and folder structure to help you stay organized and it also helps you intuitively remember the location of files thanks to your spatial memory – a massive time-saver.
Spatial Memory: Just Like the Physical World
Remember where you put something, not in which folder
Select single or multiple items anywhere on the Raskin Surface, across multiple folders
Easily group documents into new folder [⌘G]
Sort by document meta data (including "last opened")
Create custom arrangements to personalize Raskin Surface
Create landmarks within Raskin Surface by color-coding or resizing items
Display, hide, resize, and arrange, documents, folders and Places to fit your needs
Changes made in Raskin are reflected in Finder and vice-versa (uses common file system)
Back to Top
See more with Raskin
Forget digging through deep folder structures or remembering file names.
With Raskin the contents of your files and folders are displayed openly with full previews – zoom-in for a closer look.
Visual: See What You're Looking For
See all your documents on a single Surface [⌥⌘2]
Quickly navigate across the Raskin Surface [⌘1, ⌘2, … to go to Places]
Preview the contents of all Quick Look enabled documents
Choose Surface background brightness and border color
Hide documents, folders and Places you don't use [shortcut menu on right-click]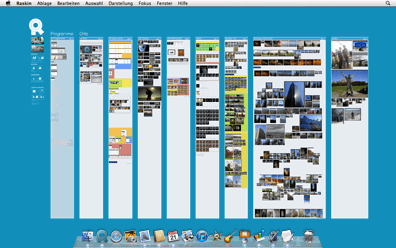 Manage all your documents on a single, zoomable Surface.
Back to Top
Community
For exclusive offers, competitions and tips join us on Twitter or Facebook or subscribe to our Newsletter below.

$24.99 – Single User
$39.99 – Two Pack
$74.99 – Family Pack